About
Julia White BFA
Bio:
Julia White is a sculptor that creates dreamlike landscapes with her enigmatic
abstract forms. She combines the raw beauty of nature with elements of light, sound and 
sculpture, through a creative process that is uninhibited yet deliberately refined.
Originally from Toronto, White received a BFA from Queen's University, then followed
her roots to a round house in the country near Walter's Falls, ON, where she now lives 
on 
land with a creek and a forest of trees.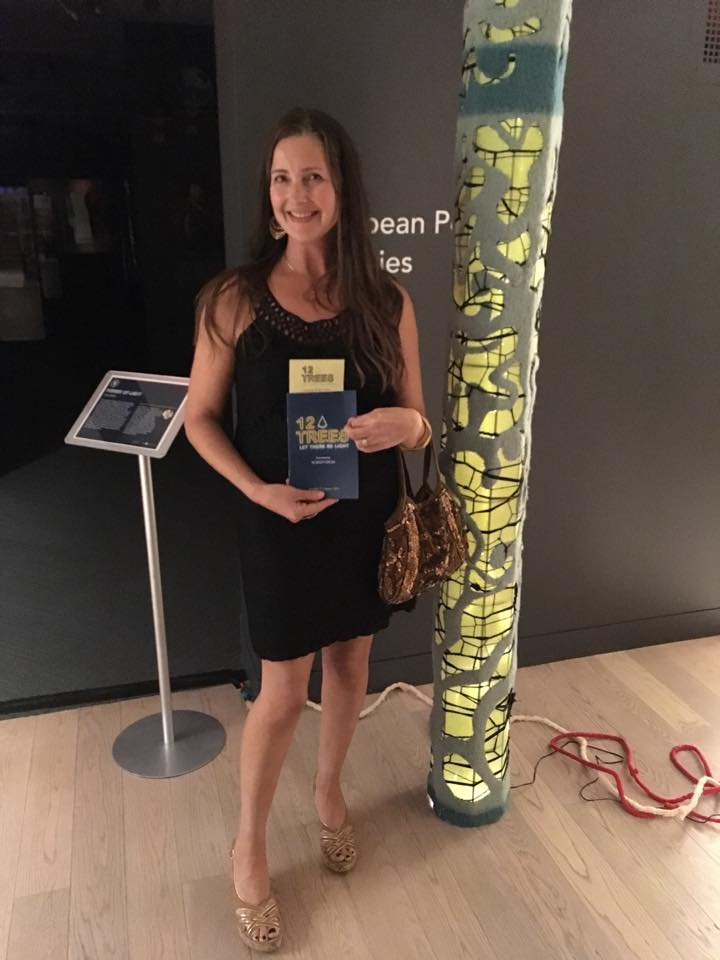 Recent shows include 12 Trees : Let There Be Light at the Gardiner Museum in Toronto and Water Shadows in the Installation Zone at the Artist Project, also in Toronto. Over the summer of 2017 White's Ripple Project unfolded in her community through a series of Ripple Maker Days in which she gathered drawings that celebrate water and our Great Lake Huron. This Great Art For Great Lake Project was a Canada 150 initiative and part of Greatness. These community 'water-offerings' became the raw material for the resulting Water Columns, laser-cut steel light columns, lit from within with watery blue light. The Ripple Project is a legacy project that is on permanent display at the Roxy Theatre, Owen Sound. Water Shadows : Grimsby was part of 'Through Our Eyes', also a Canada 150th initiative. For this project a sound sculpture  emanated the artist's gathered sounds of local water to inspire a creative dialogue with water. The community's drawings of water were gathered and put on display as an integral part of the show. Various configurations of White's installation Forest of Light Columns were featured in 'Wild Threads', a two-person outdoor installation at the Glenerin Inn (commissioned by the Art Gallery of Mississauga), 'the Red and the Black' in Oakville, ON as part of the World of Threads Festival of Contemporary Fibre Art, the Toronto Outdoor Art Show, the Interior Design Show (Prototype) in Toronto and a two-person show at the Durham Public Art Gallery with Steven White called Roots Entwined.
Julia was the recipient of the Robert G. Kemp Award in 2015 given by the Blue Mountain Foundation for the Arts for her project Water Shadows.  Her light sculptures were included in two seasons of the tv series, 'the Strain', by director Guillermo del Toro.  White's installation Water Shadows as well as Forest of Light Columns were shown in the granary at the Electric Eclectics Festival, Meaford, ON, a popular event that showcases avant-garde music and contemporary visual and sound artists, in particular. Light Columns were onstage with Canadian bands STARS and Hannah Georgeas at the Mudtown Music Festival in Owen Sound and also a vibrant outdoor installation in a glade of trees flanking the stage at the Canadian Spirit Festival (and band 'Tribe Called Red'), presented by the Tom Thomson Art Gallery. In 2007, the artist's Threads Of Peace, a multi-media textile sculpture, served as a score for a performance she wrote and directed that featured 17 international musicians at Convergence, the Deep Listening Institute's 'Sonic Gesture of Peace' in Hudson, New York.