WATER Shadows : Grimsby – at the reception
Photos from the reception on the last day of gathering creative water offerings,
at the Grimsby Public Art Gallery.
Visitors to the exhibition were given an invitation to participate in this community celebration of water.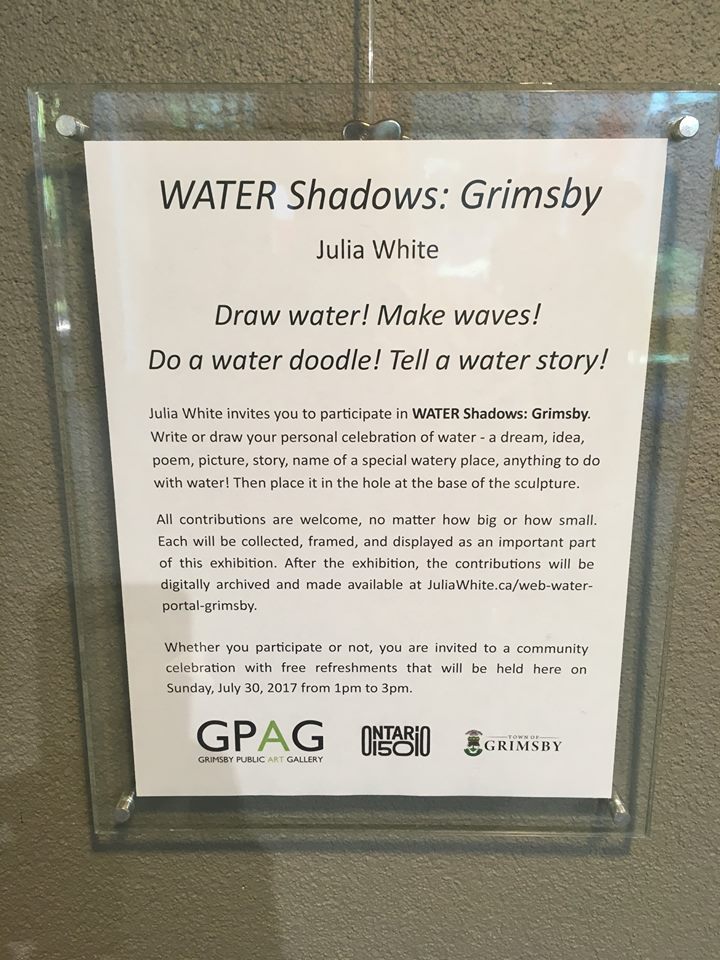 An Invitation:
For Through our Eyes! I offer a sculpture from WATER Shadows as a 'gathering vessel', a physical container to receive hand-drawn personal 'celebrations' of water from residents of the Grimsby community. These may include dreams, ideas, nominations of special watery places, poems, drawings, paintings and stories. Wav files of local water recordings will also be accepted online. WATER Shadows : Grimsby is an invitation to draw water, make waves, engage in the creative flow, be inspired by special watery places and celebrate water in creative ways! When you have made your 'water offering' you can then roll it gently and release it into the 'water temple'. All contributions with be gathered regularly and then put on display as part of the exhibit, on the wall behind the 'water temple' itself. All contributions will also be exhibited online in the Web Water Portal dedicated to WATER Shadows : Grimsby. 
more individual photos of these beautiful water works will be posted on the Web Water Portal soon! Do check back to find your water doodle and to see the art of others in your community.